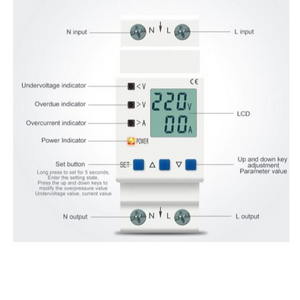 Tripconnect 1P
P1,52968

P1,529.68
Tax included.
Shipping
calculated at checkout.
---
---
Over current protection, over voltage protection, under voltage protection can
disable one , two or three of them.
- Voltage and Current Accuracy 0.5%
- It's own power consumption <0.5W
- Can be manually and automatically reconnect.
- Can set the delay on and delay off time.
- Can be used as a normal switch.
- Can be used as a cycle switch. Remarks The product does not have a battery.
If the external power supply is out of power, the cycle time starts from 0.
- Electricity metering accuracy Class 1.
- Backlight mode is optional, convenient for user scene selection.
- Malignant load identification limit (pure resistive load), for apartments Rental
housing restrictions Fast heat Electromagnetic Kettle Electric rice cooker and
other resistive high-power equipment.
The Tripconnect 1P multi-fuction Protective device is designed to measure
single phase two wire AC active energy and used in over & under voltage
protection as well as over current protection. In case of over/under voltage or
over current fault in line, this product can instantly power off the load to
prevent electrical equipment from being damaged. The over & under voltage
and over current values of this product can all be set up by oneself and can
be adjusted on the basis of local practical condition. The product has a long
use of life with the advantage of high stability, high over load capability, low
power loss and wide working voltage.