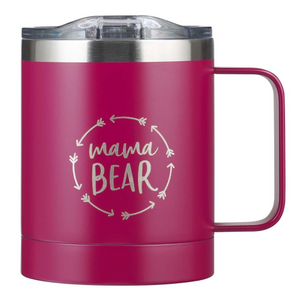 Stainless Steel Mug - Mamma Bear (Berry Pink)
P19900

P199.00
Tax included.
Shipping
calculated at checkout.
---
---
The berry-pink Mama Bear Stainless Steel Camp Style Mug with its matte finish and laser engraved design tells it like it is. When a woman enters motherhood, protective qualities instinctively develop that will put your average bear to shame. This mug sends the message that your cub matters - a lot.
The pink mug features the laser-engraved words
Mama Bear
encircled with several hunting arrows. A silver band of exposed stainless steel around the top of the mug and the smooth matte finish completes the design. Spilling becomes a thing of the past with the snugly fitting transparent lid equipped with a sliding sip-hole closure. A roomy D-shaped handle allows for easy lifting. The mug is double-wall insulated with a stainless steel interior. The insulation enables beverages to stay at temperature for hours. 
The Mama Bear Stainless Steel Camp Style Mug is ideal for any mother who is passionate about her children. It is equally stylish at the soccer game or the ballet performance - any place refreshment is needed. This adorable mug with its cautionary message will be loved by mothers who take the job of mothering seriously - whether she has to advocate for her child or just likes to keep the cubs in line. Surprise and encourage a friend, sister, or daughter with the Mama Bear Stainless Steel Camp Style Mug.
Laser Engraved Design 
Matte Finish 
Stainless Steel 
Camp Style Mug 
Double-wall Insulation 
Comfort Grip 
Retractable Sip-Hole Cover 
Tested for Lead 
Not Freezer, Microwave, or Dishwasher Safe 
Hand-wash Recommended 
Packaged in a Gift Box 
Capacity: 11 fl. oz. (325ml) 
Size: 4.7" x 4.5" x 3.5" (119 x 114 x 86mm) 
Gift Box Dimensions: 5" x 4.6" x 3.8" (127 x 117 x 89mm)