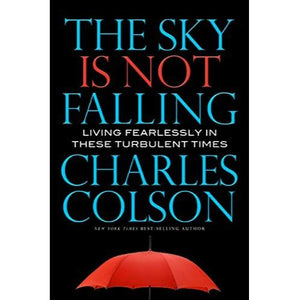 Colson, Charles - The Sky is Not Falling
P8000

P80.00
Tax included.
Shipping
calculated at checkout.
---
---
Charles Colson
The Sky is Not Falling: Living Fearlessly in These Turbulent Times
Chuck Colson equips readers to live fearlessly, with confidence in God's love and ultimate power, in the midst of an increasingly godless world.
Yes, the world is an increasingly godless place. And it's never been as pronounced as it is in this era of 24-hour news cycles. From nasty political power struggles to raunchy reality TV, everywhere we look there is evidence of our culture's steep decline. But it's no time for Christians to cower in fear. In The Sky Is Not Falling, bestselling author Chuck Colson equips readers with the truth about the most difficult cultural and moral issues of our day and brings clarity and sanity to a world that seems to have gone mad. His message is that Christians must be informed of the truth of today's confusing social and political issues so that we can live with the confidence and certainty that God has the future in his hands. Every concerned Christian needs to arm themselves with the profound insights in The Sky is Not Falling.