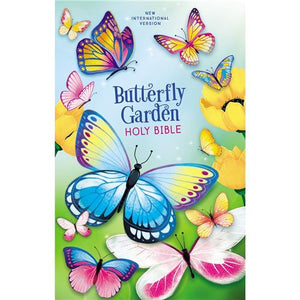 Bible -NIV Butterfly Garden Holy Bible (Comfort Print)(Hardcover)
P20042

P200.42
Tax included.
Shipping
calculated at checkout.
---
---
Featuring a vibrant, decorated cover and sparkling embellishments, the NIV Butterfly Garden Holy Bible is a beautiful way for children to connect with the Word of God every day. Includes the full text of the accurate and readable New International Version (NIV) translation.

A great gift for girls who want a Bible that is different and unique, vibrant and beautiful.

The NIV Butterfly Garden Holy Bible is a special Bible that helps girls to express their own personalities as they celebrate the joys of being a new creation through the promises found in God's Word.

Whether they are nature lovers of butterflies and birds, or love tutus and make-believe wings, with a colorful cover and sparkling embellishments this is a Bible every child can turn to again and again. Get ready for them be filled with the love of Jesus as they spread their own wings and fly. Parents too will love this affordable, easy-to-carry, easy-to-read, full-text NIV Bible.

Features include:
• 24 full-color pages with helpful content such as:
• The Ten Commandments for Kids
• Famous Children of the Bible
• How to Pray
• Questions Kids Ask
• Timeline of Jesus' Life.
• Easy-to-read 9.4-point print size
• Exclusive Zondervan NIV Comfort Print® typeface
• Handy, lightweight size
• Complete text of the accurate, readable and clear New International Version (NIV)
• Beautiful, vibrant cover featuring glitter and foil

Using the accurate, readable, and clear New International Version (NIV) text makes the Bible accessible and easy-to-read for kids. The NIV is the result of over 50 years of work by the Committee on Bible Translation, who oversee the efforts of many contributing scholars. Representing the spectrum of evangelicalism, the translators come from a wide range of denominations and various countries and continually review new research to ensure the NIV remains at the forefront of accessibility, relevance, and authority. Every NIV Bible that is purchased helps Biblica translate and give Bibles to people in need around the world.